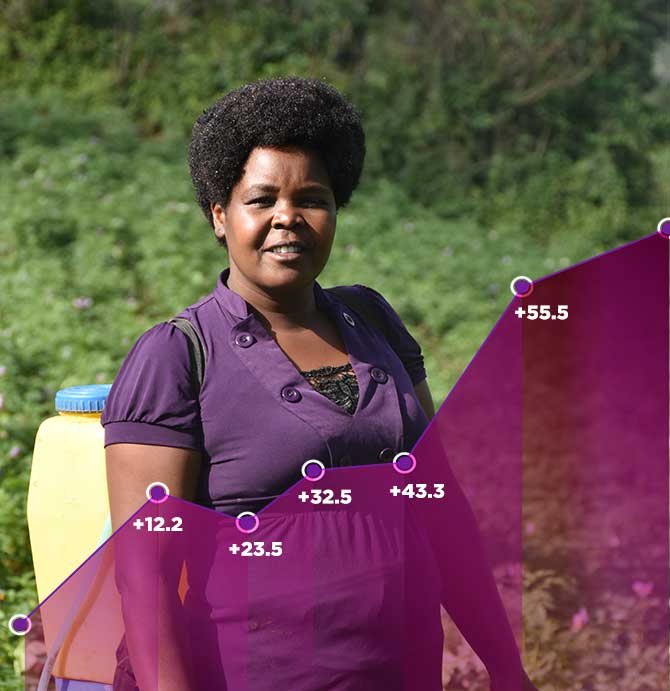 About
GROOTSmart dashboard
The GROOTSmart Dashboard identifies 11 critical areas of development for grassroots women and girls. The data visualized on this dashboard is collated from different data producers including the Kenya National Bureau of Statistics, Government Agencies and Non State Actors. There still exist significant gaps on production of gender statistics and data especially on the critical areas of women's agency and ownership of productive resources. Furthermore, existing gender data is underutilized.
The dashboard helps in visualizing both the official statistics generated by the national statistical system and citizen generated data from multiple non-state actors. Some of the visualized data is a product of further analysis of datasets from different agencies. The dashboard visualizes both national ad county level data disaggregated by gender and/or age where applicable and where the data source allows. The data visuals are built from the most recent available datasets and are updated accordingly.
It is our sincere hope that policymakers will utilize the gender data visualizations availed by this dashboard to consistently conduct gender analysis in their area of jurisdiction and apply the findings of such analysis in planning and budget allocation that will close the gender and generational equality gap.
Moreover, we encourage journalists, researchers and students to utilize this dashboard to tell the story of gender equality, women and girls that is backed up by evidence and data free from stereotypes and popular opinions that derail progress for gender equality. 
GROOTS Kenya will continue to invest in growing a movement of grassroots advocates and equip them with such data/evidence to hold governments accountable in delivering their promise of gender equality and women empowerment. We call upon users of this dashboard to optimize all the inbuilt functionalities including the export and external sharing functions and give us feedback on how better we can improve this platform through grootsk@grootskenya.org .
The development of this dashboard is generously supported by Equal Measures 2030. GROOTS Kenya is a national partner of Equal Measures 2030, a partnership that help to connect data and evidence with advocacy and action, to fuel progress towards gender equality. The 2019 SDG Gender Index developed by Equal Measures 2030 provides a snapshot of where the world stands, right now linked to the vision of gender equality set forth by the 2030 Agenda.
Our gratitude also extend to UN Women and Bill and Melinda Gates Foundation for their commitment in championing for accelerated production of gender statistics in Kenya through the Making Every Woman and Girls Count programme Homepage | UN Women Data Hub.
GROOTS Kenya www.grootskenya.org  is a national movement of grassroots women comprising of over 3,500 women-led, community-based groups spread out in different counties of Kenya. Founded in 1995, after the Beijing Conference, as a response to the lack of direct participation of grassroots women and girls in decisions making and development processes, our mission therefore is to facilitate grassroots women's effective engagement in development through movement building, leadership development and advocacy. 
GROOTS Kenya is a member of the Inter Agency Committee on production of Gender Statistics hosted by KNBS/ UN Women-Kenya while our Executive Director serves as a member of the Advocacy Advisory Group of the Gender Data Portal | World Bank Group
Fridah Githuku

 

Executive Director, GROOTS Kenya